Dirk Hooper and Eva Oh discuss how being a submissive man are perceived by society versus how it is in real life.
Some of the topics in this episode include how you have to be strong to kneel, how society tells men they shouldn't be submissive, how all submissives are not into the same things, trust in a BDSM relationship, the media's take on BDSM, and the idea that BDSM is a sexual orientation.
Much of this discussion comes from Mistress Eva's question on Twitter below.
"Male submissives…
What do you wish the public knew about being a man and being a submissive? How are you misunderstood by society?
Respond below so we can all see your responses on this thread.
This is your chance to tell your side of things!"
Mentioned in this Episode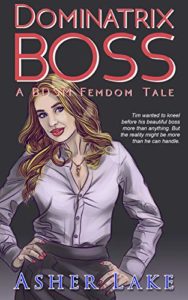 Dominatrix Boss: A Femdom Tale by Asher Lake
Dirk Hooper wrote this book under the pen name Asher Lake.
Mistress Eva cited it as an example of the books she reads to get a peek into the submissive mind.
Specific Tweets Discussed in this Episode
More on Mistress Eva
Eva Oh
Mistress Eva – BDSM Training
Twitter
Instagram
Watch out for Mistress Eva's Sunday tweets for Safeword Podcast questions!
More on Dirk Hooper
Dirk Hooper Photography and Art Works
Sexy Networking
Twitter
Facebook
YouTube
Contact
Please leave us a comment below or you can contact us directly at info@safewordpodcast.com.
We want to hear from you!
Safeword Podcast in Syndication
You can now listen to the Safeword Podcast through the syndication links below or by searching for "Safeword Podcast" on your app. If we're not on your favorite service tell us and we'll get there!
Also, your rating and review will help us immensely to find a new audience and is deeply appreciated! We both notice your reviews!
Safeword Podcast on Apple Podcasts
Safeword Podcast on Google Podcasts
Episode 2 Show Notes
8:50

The question, and submissives don't usually have a voice

11:55

You have to be strong to kneel

21:35

Submissives are not submissive to the world

28:40

Society tells men that they shouldn't be submissive

33:05

Not all submissives are "into" the same laundry list of activities

37:32

Trust in a BDSM relationship

40:22

BDSM in media

42:22

Love and care in BDSM

44:20

BDSM is fun

45:02

Submission is a sexual orientation

49:20

What are you comfortable sharing outside of the BDSM community?

56:20

Giving submissive men a voice

57:30

Dirk on writing "Dominatrix Boss"